Stay absolutely tuned to http://toysrevil.net/ for awesomeness 🙂
---
---

The "AP" Gnomes will go on sale this Sunday 30th Jan 6pm UK time.
ONLY available from my online store.
Only 30 of the regular version and a tiny 8 of the Chase version. I dont expect the chase to be available for long.
Dont miss out on your chance to get a signed and numbered Gnome direct from me.
---
Humphry Mooncalf is now available to purchase in his first edition.
The Verdegris version (edition of 100) is now up for sale direct from Pobber.com
This is the first pureblood Mechtorian figure since the mini figure range two years ago.
8″ tall with removeable cranium, brain and key.
$89.99 including worldwide shipping.
He won't be around for long.
---
The Internet Delivers!
I have been hankering after an Elvish blade styled by those WETA fellows for years now. After a Yule viewing of the Lord of the Rings extended version marathon I caved in and went on a web hunt.
Found this little beauty…

It's not the official United Cutlery LOTR version but another Chinese copy. However this comes with the scabbard which the official one doesn't. Also it's not stainless steel but carbon steel like a real sword so it can be refined if I want to. It's also about a tenth the price of the UC ones.
Nice Elvish scrips etched into the blade.
Flowing vine details etched in too. This blade is in need of finishing though as there are still some rough tool marks along the edges..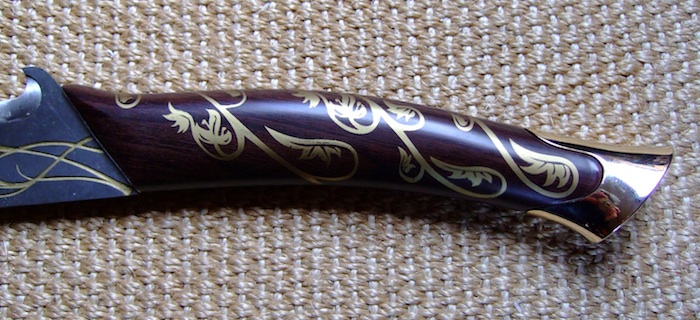 Like the UC one the vines on the handle are screen printed on only. I am very tempted to remake the handle with inset brasswork. Though if I go down that route I may redesign the handle all together. I purchased a Unicorn horn recently and that would make a great handle for this blade.. Hmmmm.
Like I have the time…………..
---
People email me asking if I have any original works for sale.
If I do have any they will be on my webstore.
However there are various pieces dotted around galleries and stores in the USA. Here is a quick roundup for you.

Freak Show
Acrylic on wood panel with custom made frame.
Framed: 23 inches x 31 inches
$900  (UPDATE – NOW SOLD)
Available from Lift in Detroit.
http://www.liftdetroit.com/

Sir Shilling Copperpenny
Original Ink Drawing
Caligraphic ink on very heavy watercolour paper.
matted and framed
$199 (UPDATE – NOW SOLD)
Available from Cardboard Spaceship
Santa Cruz, CA USA
http://www.cardboardspaceshiptoys.com/shop/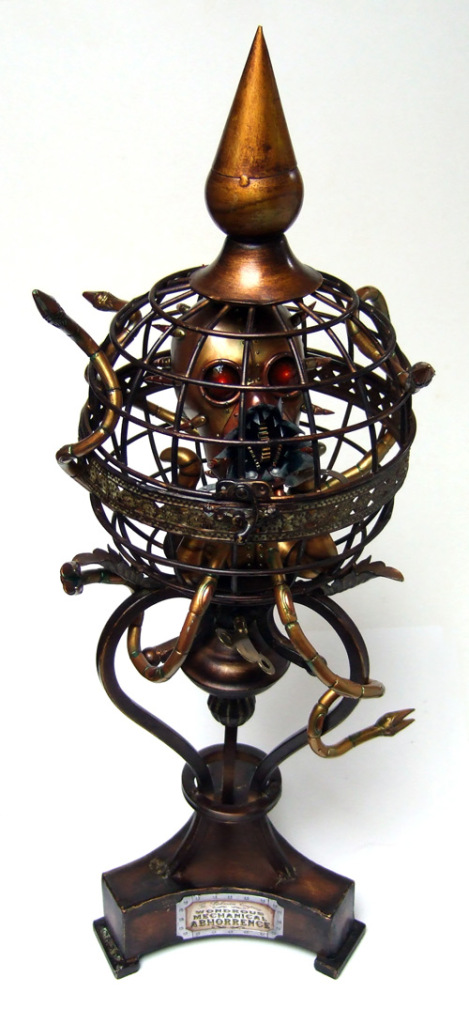 Pickman Company's Wondrous Mechanical Abhorrence
Customised "Think up" vinyl toy.
About 24″ tall.
$1200  (UPDATE – NOW SOLD)
Available from Gallery 1988 Venice.
This piece was at their San Francisco venue which has recently moved to Venice CA. Not on their website yet. Contact them directly if you are interested in purchasing.
http://nineteeneightyeight.com
214 Pier Avenue
Santa Monica, CA 90405
Phone: (424) 238-5988

"Uncle"
Acrylic on wood.
In an antiqued resin frame.
Frame 6″ x 8″
Image 3.25″ x 5.25″
$300 (UPDATE – NOW SOLD)

"Tish"
Acrylic on wood.
In an antiqued resin frame.
Frame 6″ x 8″
Image 3.25″ x 5.25″
$300 (UPDATE – NOW SOLD)
Both available from Wootini
http://wootinigallery.com/
---
The CD with the cover I drew recently has just gone on sale.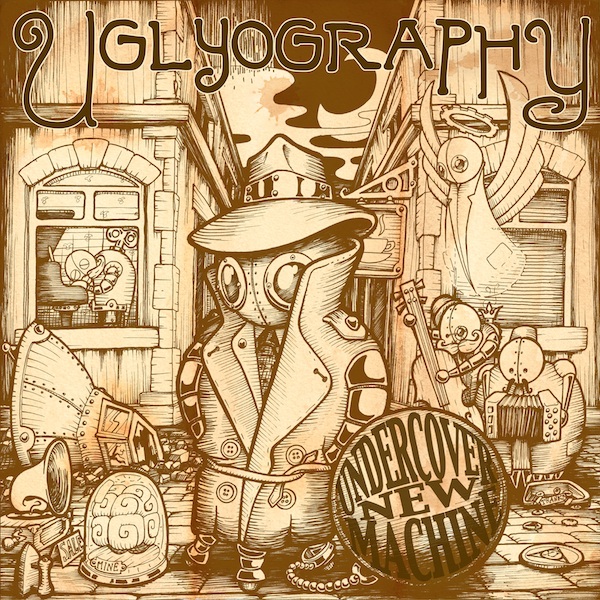 The image is a montage of elements taken from lyrics on the LP. There is a slight Noir twist to my usual style here to fit what the band wanted a little better.
Check it all out over at www.uglyography.com
There are posters available on their store with the drawing on too.
Undercover New Machine is a collection of 13 compositions from Uglyography frontman and bassist Matt Thomas (formerly of The Outer Loop and Lord Bowler). The album blends early punk rock energy and ideas (Descendents, Minutemen) with quirky catchy melodies (a la They Might Be Giants, Ween). The diverse musical blend mixed with rock-opera style lyrics define the essense of the Quirkadelic genre that Uglyography creates.
---
---
Here he is. Thing as put through my perception filter.
If you are interested in purchasing this piece please contact the Wootini Gallery.
He is part of the Addams Family show running there for the next few weeks.
About 7″ tall minus the box base.
Rubberwood, Lead, Brass, Copper, Steel, Found Objects.
$1400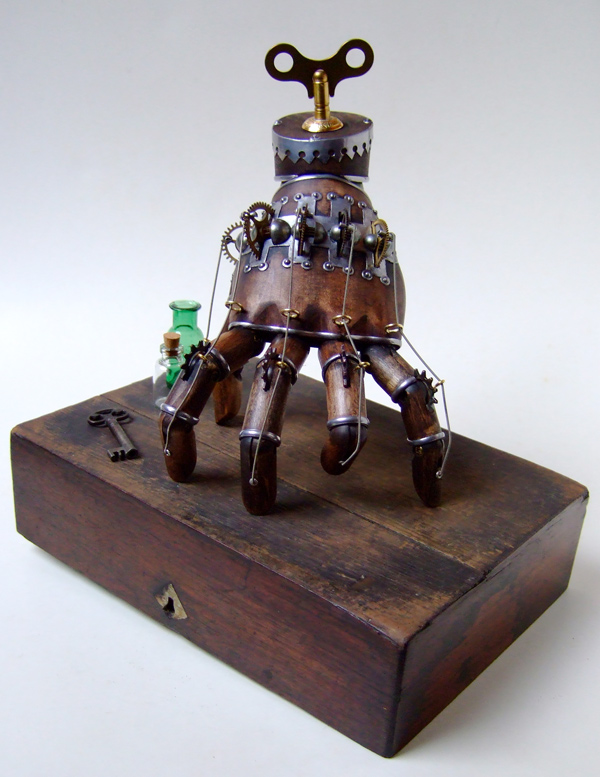 I also have two small paintings in the same show.

"Uncle"
Acrylic on wood.
In an antiqued resin frame.
Frame 6″ x 8″
Image 3.25″ x 5.25″

"Tish"
Acrylic on wood.
In an antiqued resin frame.
Frame 6″ x 8″
Image 3.25″ x 5.25″
---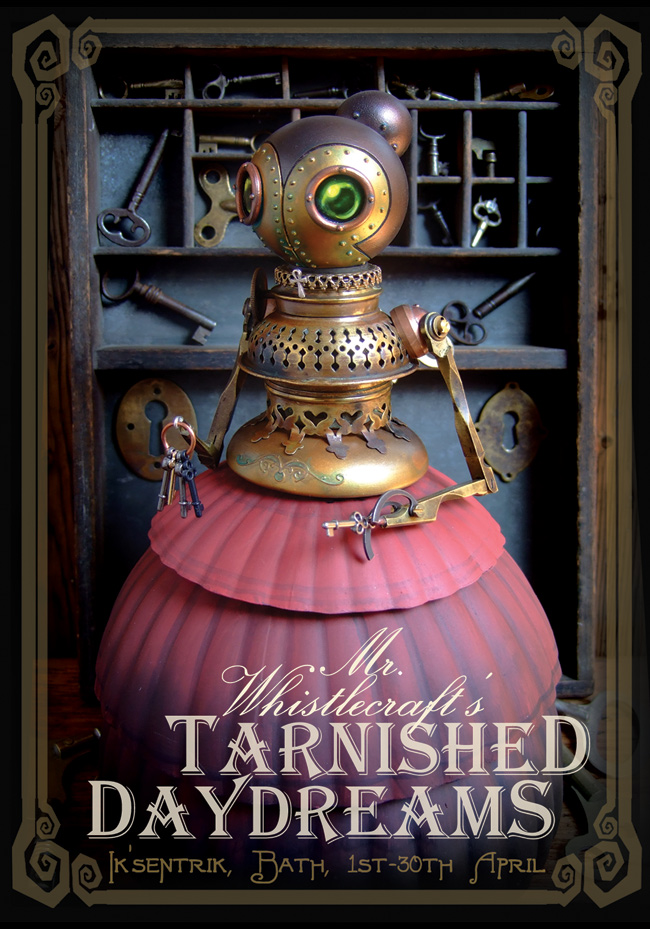 April 2011 sees the first Doktor A solo show in his home country.
An exhibition of retrobotic whimsy as only the good Doktor can deliver.
At Ik'sentrik, 3 George Street, Bath
1st – 30th April.
Opening night details to follow.
---