---
Designer con will see the launch of the first production G.N.O.M.E toy.
This special edition version will be limited to only 100 pieces.
I will be signing them at the 3D Retro booth from noon until 3pm this Saturday (20th).
I believe they will be $65 each.
Gyroscopic, Non-Ornamental Mechanised Excavator
Originally created to excavate the labyrinthine tunnel system for Retropolis's underground pneumatic railway, the G.N.O.M.Es have proven themselves useful for many other tasks. Currently employed on an ambitious continent to continent sub sea corridor project. The peculiarly hard ocean floor rocks have begun to give them headaches. Several of them intend taking some time off when it is over and plan a little jaunt to the centre of the planet for a vacation.
---
The second volume of Kidrobot's compendium of Art Toys has recently been released.
It's a veritable who's who of underground toy based art.
And I am happy to announce several pages of this splendid volume are dedicated to my humble works.
You can pick it up from most good bookshops and of course online.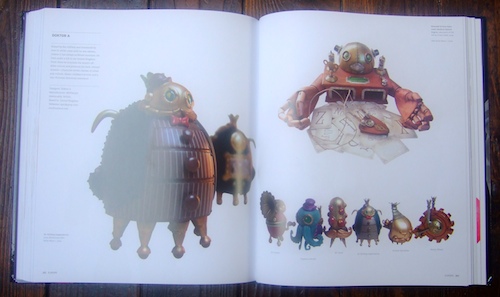 ---
The Bank of Retropolis has minted a commemorative coin to celebrate the appearance of Doktor A at Designer Con.
These 1.5″ coins feature an antique copper finish and are limited to only 100 pieces.
They will be available for $10 each at Toy Break (booth 227) conveniently located across the aisle from Doktor A (booth 226)
This coin is the first in a series of artist designed collectible commemorative coins available exclusively at the annual toy/art/design show Designer Con.
Don't miss it!
---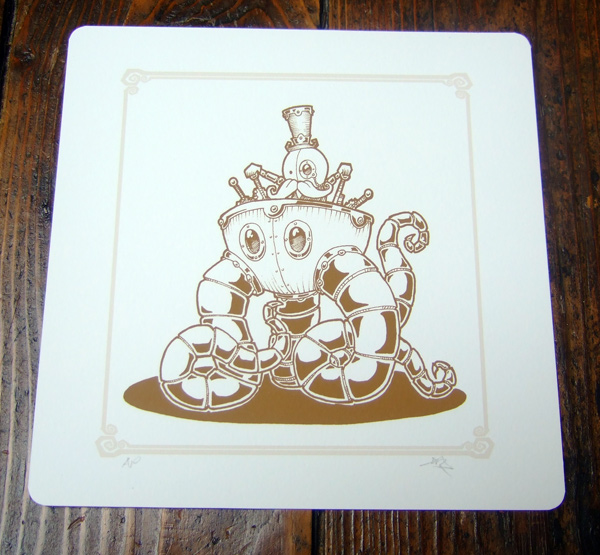 This is my latest print.
It will be an exclusive release at Designer Con in Pasadena on the 20th of this month.
Edition of 15 each one numbered and signed in pencil.
Archival sepia ink on Somerset cotton rag stock.
Image size 13 x 13 cm
Paper size  16.5 x 16.5 cm
$20 each. First come first served.
---