Today was a very good day!
It was my sixth wedding anniversary. The best six years of my life.. Actually its been a great eight years, but we have only been married for six.
Bryony is a constant support in everything I do. A critical eye, and a level head. And in all honesty the source of some of "my" better ideas…
I could not do without her…. At all!
And she buys me awesome stuff..
Today I got this :
It's a rather splendid pen I have been coveting for some years.
I think it looks like Nikoli Tesla's sonic screwdriver.
It is in fact the "Cooler" designed by Eric Magnussen and released by Acme in 2004. Quite sort after now I believe. Its hand turned steel (or possibly Aluminium).. Very nice to write with, though it will now be my sketching pen, so look out for it at signings..
Also today I had this arrive :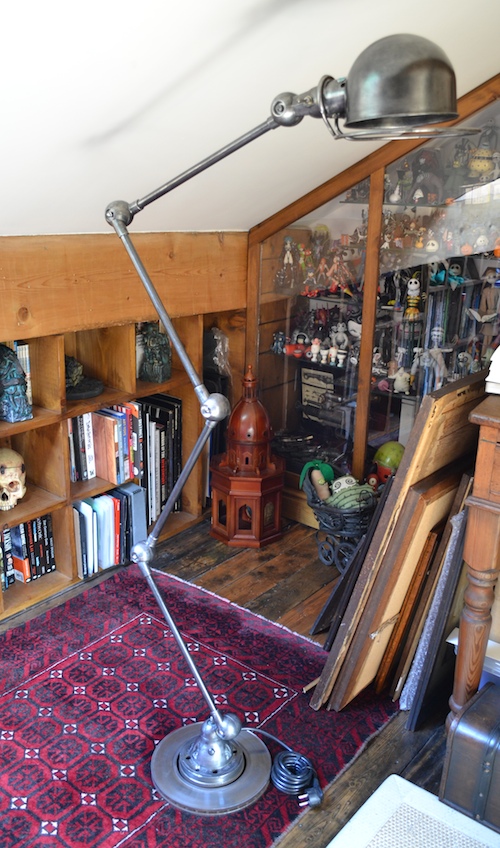 It's a new lamp for my work desk. It's a 1950's Jilde lamp from France. Originally designed as machine work lamps for lathes and suchlike they have become quite the design classic. Modern versions are mini copies of the originals (made since the 1940's) with colourful powder coatings.. I went searching for an original because I am awkward like that and wanted something with a bit of patina to it. It's huge and very articulated. And this one seems to be bolted to a disk brake. Originally it would have been wall mounted and I intend to rig it up above my work desk on the support beam which runs across the room.. Needs a bit of rewiring first as its French rigged right now with a two pin plug..
So not strictly a "Victorian" man as some people may have thought. But I do love a good bit of industrial design.