A little gift guide to some of my gifted friends :
Some splendid works for your delictation at this purchase heavy period of the year. Some ideas for those who want to give something a little more artistic.
"Uncle Six Eyes"
A 10″ tall bust of this enigmatic soul based on the paintings of Travis Louie.
$120 for one of this run of only 150 pieces. Direct from the new art toy company Shinbone.
I have one and they are awesome.
Travis has hardly made a move into the dimensional arena but this piece shows what a great direction it is to go.
Tentacled scarf. ($23)
Where to start with Miss Monster's works.
Her shop overflows with splendid sculptural and graphical wonders for him and for her.
All sorts of mythical and whimsical beasties to delight and torment…
Neil Winn's "Monster Magnets" ( $25 each or $60 for all three) are wonderful chunky goblin doorkeepers for your fridge. No mini magnets these, They have a real characterful presence and are each hand cast and hand painted by the artist.
Pop on over to Neil's shop and see all manner of creatures both sculpted and painted. Prices range from $10 to $200 and there are all sorts of characters from Muppets to Lovecraft to choose from.
Know someone who is classic car crazy but dont want to get the same old stuff that's all over the place?
Check out "Retromotive" for unusual sculptural clocks based on hotrods, VW vans and classic muscle cars.
There is also a great selection of original paintings of retro autos all by the talanted Julien Hatswell.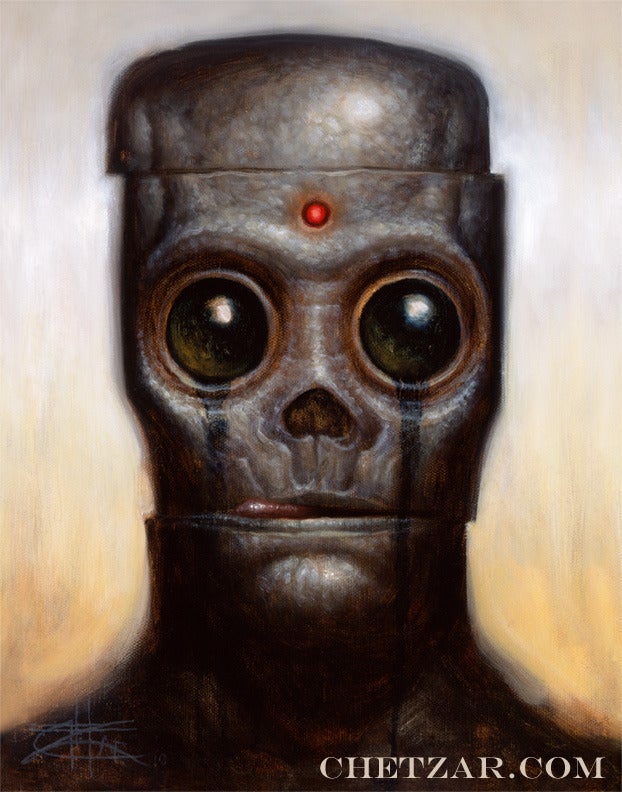 The unique Chet Zar has a new selection of Canvas Giclee prints on his store from $115.
There are also sculptural pieces and the odd piece of jewellery by the master dark character designer.
If you want something a little more expensive, there are still some amazing original pieces available from his solo show at Last rights gallery.