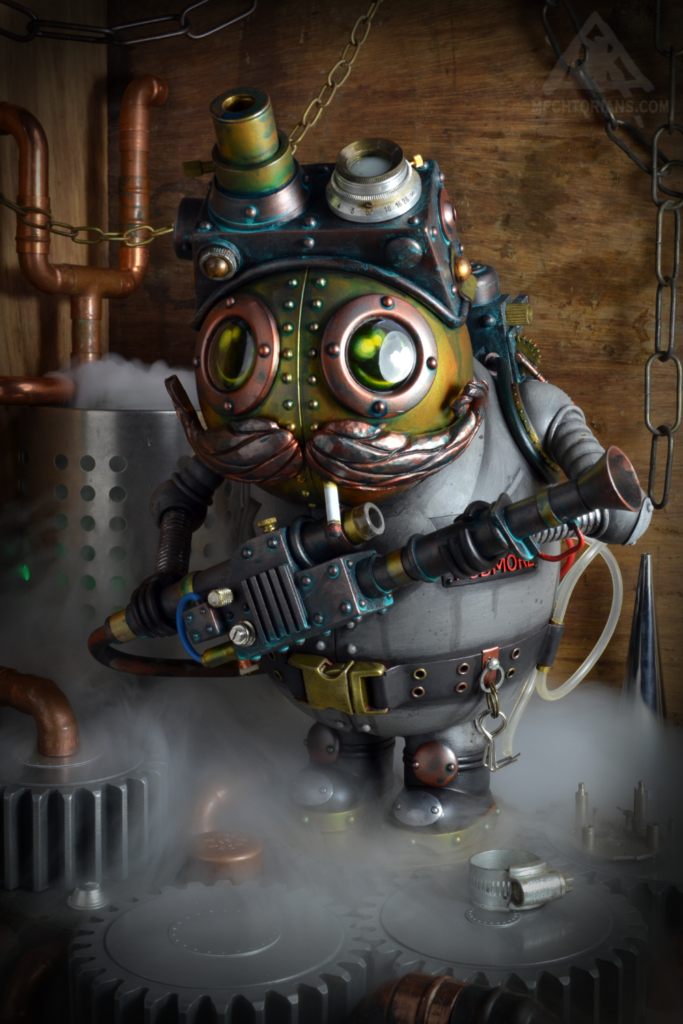 In anticipation of the new movie Ghostbusters: Afterlife, the Sugarmynt Gallery in Pasadena is mounting a Ghostbusters themed art show.
"Yes Have Some" has been curated by the fantastic Pop Artist Chogrin and brings together an eclectic mix of artists and toy makers to present their own versions of the iconic paranormal eliminators.
Opening Nov 20th, 12:00 PM – 6:00 PM
At Sugarmynt Gallery, 810 Meridian Ave, South Pasadena, CA 91030, USA
For this show I have created a significant new Mechtorian piece :
Frank Podmore – Ghostbuster (named after a pre-eminent 19th century paranormal investigator).
Vinyl toy parts, Epoxy, Acrylic, Steel, Brass, ABS, Polyester resin, Copper, Oak, Lead, Glass, Rubber, PVC, Vintage Camera and Watch Parts, Found Objects.
12.5" tall on base
He will be available to purchase from the show.
You may like to contact the gallery beforehand if you are interested in adding him to your collection.
This is a unique opportunity as I very rarely make pieces based on existing pop-culture characters. This may well be the only Ghostbusters related piece I ever create!
Continue reading