Badge of the month No. 4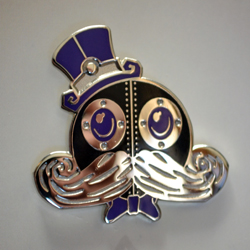 On the 5th of January the 4th in the Mechtorian badge of the month series will go on sale from my online store.
The final version of this design is a spiffy "Mourning" edition in polished silver, black and purple.
Relief cast in real metal,  polished and partly enamel filled to give a classic vintage look.
The badge is 1″ across and has a clasp pin fixing on the rear.
Each piece comes bagged on a signed and numbered card.
There will only be 100 made of this badge version.
February sees a totally new character design.. Check back here or "like" my facebook page for updates!