Studio Conversion Part 6
I have been spending most of this dark and chilly (and very very wet) January working on the studio conversion in the hopes of having it finished by the end of the month.
Mostly this has included painting.
Which took longer than expected due to all the fiddly bits along the edges of all the beams.
And three coats required plus the plaster primer.. But that was all done in the end.
Then the radiators were fitted and warmth was returned..
The radiators were cast up specially for us from a French design dating to the very early 20th century. They are real cast iron (not steel like modern radiators) from molds taken from the originals. They are insanely heavy. It took two men to just about move one..
After they went in the skirting boards were cut to size, stained, oiled and waxed.. That took a few days as there was about 30 meters of the stuff. Of course there is not a right angle or a straight wall in the place so there was a lot of jiggery pockery to get them to fit.
Then the floors all got a second coat of traditional Hard-Wax oil.. Great stuff. But damn stinky.. After a few hours of it you feel like your head is filled with washing up liquid.
Whilst the floors dried for a few days I worked on the two doors for the room. The small seperating door had been purchased for the job and was pre stripped. The one at the bottom of the stairs was taken away and stripped for us. Then I cleaned them up, rubbed them down, oiled them with Boiled Linseed Oil and waxed them..
The small door was cut and fitted with new handles purchased as a set from Ebay. Hand turned Teak I think. All the dooors in the house will  match when I am done. They were fitted with antiqued Brass furniture. A pressed Brass finger plate was also fitted to each side of the door. These too were an Ebay find. They are reproductions of an Arts & Crafts Movement design. The polished Brass looks great with the pocked and gnarly wood of the door.
The stair door had an original Victorian Rim Lock. There are only two left in the house. I needed to remove it from the door and clean it up by hand.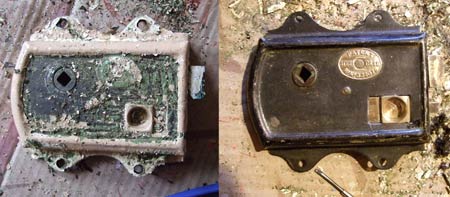 There were six layers of paint on it. But it works now. As its steel and rather scratched I re-enamelled it on the black areas before fitting it back on the door. I dont have photos of that door yet as I hung it on a different day to the small door. I will get pics of everything when its all done.
The light switches and elecrical sockets all got their plates fitted now too. But by now you probably realise I cant leave anything alone and had to tinker with them. We went for Toggle switches with minimalist backplates (no visible screws). These are modern fixings which come in a highly polished Brass. New polished Brass looks nasty to me. Like cheap gold. But being solid Brass I was able to clean off all the clear laquer coat and age them in a little acid bath I had made up. Then they are waxed to set the desired finish. I dipped and polished each plate and switch three or four times to build up an interesting patina. Some before and after pics…
So that is the guest room completed. The work to fit all the furniture into the Studio has begun. I now have the task of turning a nice empty room into a functioning space..
More to come……