Curated by Chet Zar
I  am chuffed to be included in an upcoming group show of sculptural works curated by the splendid Chet Zar.
There are some inspiring artists in this show. A lot of whom I admire greatly.
Hope my funny little robot fellow can hold his own amid this talent frenzy!
Its interesting to see the selection of artists Chet has chosen. A cross section of the pop-art worlds and the effects industry.
Never thought I would be in a show with the likes of Steve Wang! ( Go google him you art types!)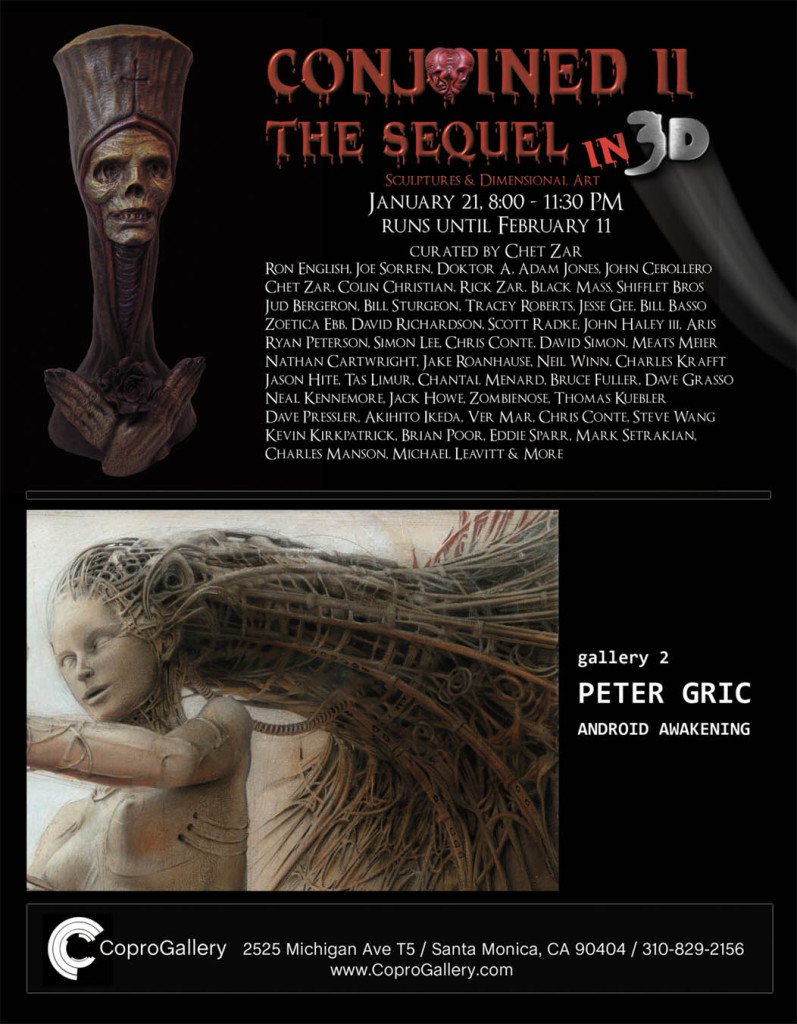 "Conjoined II The Sequel- in 3D"
Sculptures and Dimensional Art
Copro Gallery
2525 Michigan Ave T5
Santa Monica, CA 90404
310 829 2156
January 21, 8:00-11:30 PM
Runs until February 11th
Curated by Chet Zar
Ron English, Joe Sorren, Doktor A, Adam Jones, John Cebollero, Chet Zar, Colin Christian, Rick Zar, Black Mass, Shiflett Bros, Jud Bergeron, Bill Sturgeon, Tracey Roberts, Jesse Gee, Bill Basso, Zoetica Ebb, David Richardson, Scott Radke, John Haley III, Aris Kolokontes, Ryan Peterson, Simon Lee, Chris Conte, David Simon, Meats Meier, Nathan Cartwright, Jake Roanhause, Neil Winn, Charles Krafft, Jason Hite, Tas Limur, Chantal Menard, Bruce Fuller, Dave Grasso, Neal Kennemore, Jack Howe, Zombienose, Thomas Kuebler, Dave Pressler, Akihito Ikeda, Ver Mar, Steve Wang, Kevin Kirkpatrick, Brian Poor, Eddie Sparr, Mark Setrakian, Charles Manson, Michael Leavitt, Michael Shawn McCracken, Andrew Freeman, Kato DeStefan, & more