9 days to Dragon Con 2010
I will have a booth in the Comic and Pop Artist Alley in the Grand Hall East at the Hyatt Regency hotel at this years Dragon Con.
The show runs from the 3rd to the 6th of September it Downtown Atlanta.
Hyatt Regency Hotel
265 Peachtree Street NE
Atlanta
GA 30303
tel : 404-577-1234
Comic and Pop Artist Alley Opening times :
Friday 1pm – 7pm
Saturday 10am – 7pm
Sunday 10am – 7pm
Monday 10am – 5pm
Panels I will be on this year :
Title: Comics & Pop Art Reception
Time: Fri 08:00 pm
Location: Regency V – Hyatt
Title: Breaking the Molds, Pushing the Boundaries of 3D Art
Time: Sat 01:00 pm
Location: Hanover F – Hyatt (Length: 1)
Description: Enjoy an hour with the cream of the crop of today's object art elite.
Title: Steampunk Makers' Exhibition
Time: Sun 04:00 pm
Location: International C – Westin (Length: 1)
Description: See some of the finest steampunk makers & builders display their props in an up-close and personal format!
My two exclusive prints……….
Each printed in sepia archival inks on Sommerset velvet cotton rag with rounded corners. Each signed and numbered in pencil.


Stephan LePodd – Explorer
Edition of 15
Image size 13 x 13 cm
Paper size 16.5 x 16 cm
Trevithick's Wandering Theatre
Edition of 20
Image size 13 x 21 cm
Paper size 16.5 x 25 cm
New Original Drawings
Many new pen and ink drawings will be at the show. Here is just a tiny taster.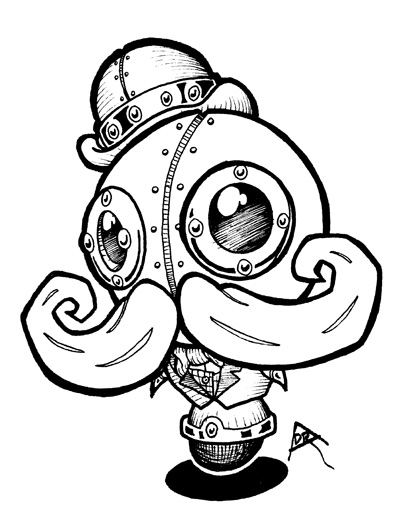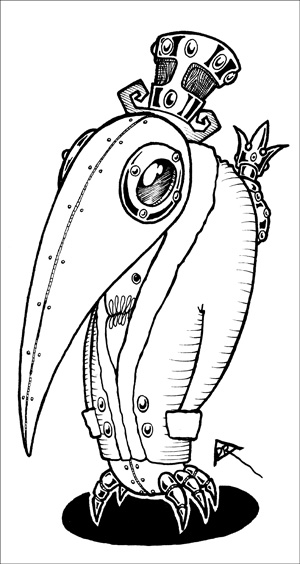 Last Chance for LePodd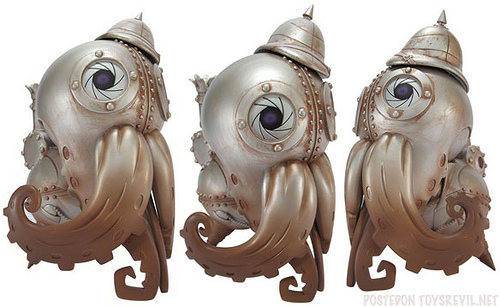 There will be a very small number of the Dragon Con exclusive Stephan LePodd figure available to those of you who didnt make it out to the show lst year.
Custom Toys

New and old custom toy pieces will be on display.

As well as the YoYos seen in the previous post.
So if you are there please do drop by and say hello.
And if you still need tickets click over to the Dragon Con site and see what last minute deals there may be.